Bend, Oregon is a beautiful and scenic place to get married. Central Oregon provides the mountains, lakes, and forests provide a stunning backdrop for your special day. And with so many different venues to choose from, you're sure to find out why Bend Weddings are so special.
If you're looking for a traditional wedding, there are plenty of beautiful parks, churches, and chapels in Central Oregon. And if you're looking for something more unique, there are also plenty of outdoor venues to choose from, such as state parks, ranches, VRBOs, gardens, lodges, and even wineries.
No matter what your style or budget, you're sure to find the perfect wedding venue in Central Oregon. And with the help of a local wedding planner, you can create the wedding of your dreams.
Top Bend Wedding Rentals Items in 2023
Once you've chosen your Bend wedding venue, it's time to start thinking about rentals. There are a variety of wedding rental items available, and the best choices will depend on the specific needs of the couple and the overall theme of the wedding.
Here are some of the top Bend wedding rentals in 2023: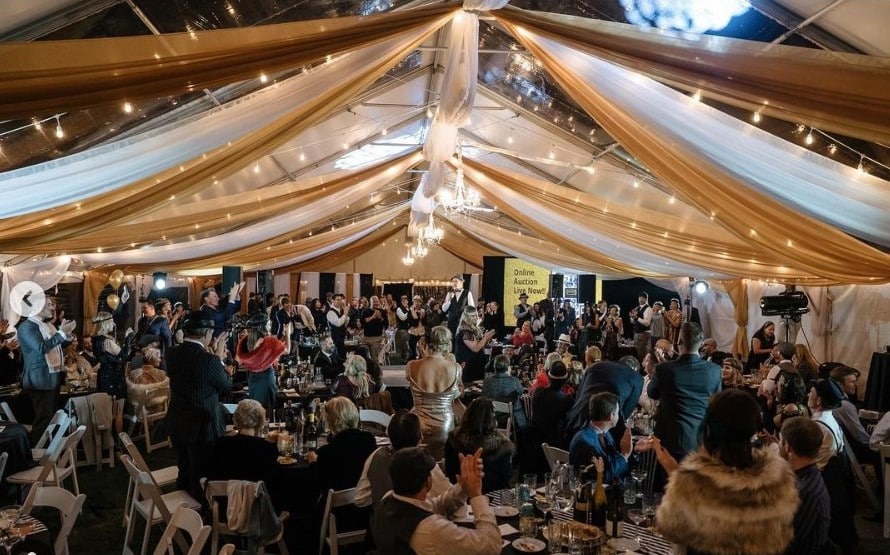 Tent Rentals
Tent rentals are a great way to create a sheltered space for your wedding ceremony and reception. They can be rented in a variety of sizes and styles, and they can be customized to match the couple's wedding theme.
In Central Oregon, a canopy tent rental is a must-have for any wedding. The weather can be unpredictable, and a tent will provide a safe and dry place for guests to enjoy the festivities.
According to Weddings of SLO:
WHEN SHOULD YOU RESERVE A CANOPY TENT RENTAL?
The best time to have a tent is when the weather is unpredictable. If you're having your wedding outdoors, it's always a good idea to have a tent on hand in case of rain or wind. Some companies will let you have a tent on hold in case of inclement weather. While you will still most likely have to front a deposit, this acts as an insurance policy for your most special day. In our opinion, this is well worth the expense.
Chair Rentals
Chairs are another essential wedding rental item. They should be comfortable and stylish, and they should match the overall aesthetic of the wedding.
Most couples choose to order chairs with pads for their wedding. This adds a touch of luxury and comfort, and it can help to create a more elegant atmosphere.
Table Rentals
Table rentals are also an important wedding rental item. They should be sturdy, and they should be the right size for the number of guests.
Selecting the correct table size is imperative to creating good wedding flow. Most weddings opt for round tables, but many choose rectangular when they are utilizing a smaller space or trying to create a more casual feel.
Rectangular tables do take up less space inside a tent or enclosed small space, so you may want to consider them if space is an issue for you.
Linen Rentals
Linens are a must have for any event. They will add a touch of elegance to any wedding or event. They should be coordinated with the overall theme of the wedding, and they should be of high quality.
Floor length linens are always preferred on any tables that are "showcased" such as food, beverage, and cake tables. If your wedding has a formal feel, I recommend using floor length for all tables, including guest seating.
Drapery can be used to create a more intimate and elegant atmosphere at a wedding. It can be hung from the ceiling, draped over tables, or used to create backdrops for photos. Ceiling drapes and leg drapes can really elevate an industrial looking tent and take it from looking plain too spectacular.
Lighting Rentals
Lighting can set the mood for a wedding. It can be used to create a romantic atmosphere, or it can be used to highlight certain features of the wedding venue.
Perimeter and center draped lighting with bistro bulbs are the most popular tent lighting options.
If your wedding has a more elegant feel, chandeliers are a must. They will elevate your event and create a focal point under the tent. They also look stunning in photos.
Creating a Memorable Central Oregon Wedding
By renting the right items, couples can create a Central Oregon wedding that is both stylish and memorable. But the most important thing is to choose items that reflect the couple's personal style and taste. After all, this is their special day, and they should make it their own.
With a little planning and effort, couples can create Bend weddings that are truly unforgettable.