Choosing the Right Bend Oregon Linen Rentals
Choosing the perfect Bend Oregon linen rentals for your upcoming wedding can be a difficult task. You will need to decide on colors, affordability, table sizing, and the quality of linen rentals you will need for your Central Oregon wedding.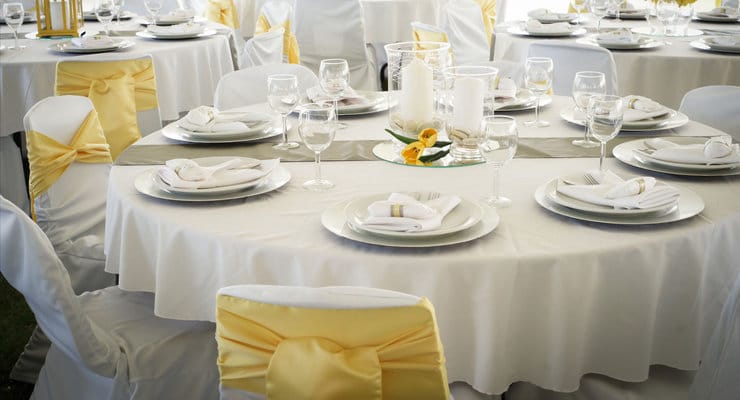 Linen Colors
First, you need to think about linen colors. Our standard linen colors available in white, ivory, black, navy, burgundy, red, & forest green and can be rented for $9.75 a linen. Specialty linen colors can be ordered with premium linen pricing. Specialty linens can include perfectly round linens, extra large linens, standard sized linens in a custom color, overlays, runners, chair sashes, and chair covers.
The two most popular linen rental colors are ivory and white. These colors are typically the least expensive due to them being carried in bulk and not being specialty linens. With ivory or white linens, you also have the option to coordinate an array of specialty wedding decor.

Linen Sizing
Bend Oregon linen rentals come in all shapes and sizes.  Our standard sizing is below with specialty sizing available.
60 Inch Round Table Linen
We have found that a 90X90 linen works well on a 60 inch round table. Many brides often assume that these square linens will look odd on round tables, but they actually look great and are very functional. Square linens on round tables hang long at the legs and rise where people sit, allowing them to have the freedom to push their chairs in and out easily. Perfectly round linens on round tables often pool up or even get stuck when too many people push their chairs in, making them far less functional. Round linens also require more intensive linen pressing and are double the price of standard linens.
8ft Rectangular Table Linen
We use a 52X114 linen on 8ft rectangular tables. This allows for enough drape to fall about halfway between the ground and the top of the table. This is a very popular choice for most weddings and events.
Additional Linen Sizes
We also carry linen napkins and other standard linen sizes. Additionally, specialty linen sizes are available upon request.
Quality of Linens
All of our standard linens are available in a high quality polyester.  Our Bend Oregon linen rentals will come clean, pressed, wrapped, and ready for use. Linens can be returned dirty; however, we ask that you avoid tough stains like red wine as additional charges can be added if stains do not come out.